Plug-in Module series
Functional Muscle Synergies
2 HOURS ON-DEMAND WITH CERTIFICATE

Try this: see if you can walk around the room using the textbook description of muscle-movement. For example: quads straighten the leg. Biceps flex the elbow. Chances are that you will either walk around like a tin-man, or get so overwhelmed with information that you freeze in place.

The human body functions as an integrated system – not isolated parts. Although many of us learn about how the individual movements, muscles and joints work, real life requires a different approach: we need to see human movement beyond the anatomical model, and makes sense of movement from a functional perspective.

This module is designed to add to your existing knowledge and help facilitate a 3D understanding of how muscles function in motion.

What to expect:
2 hours of recorded learning content

Access to slides featured in the video

Multiple choice quiz to test your learning

LPA certificate of completion

Unlimited access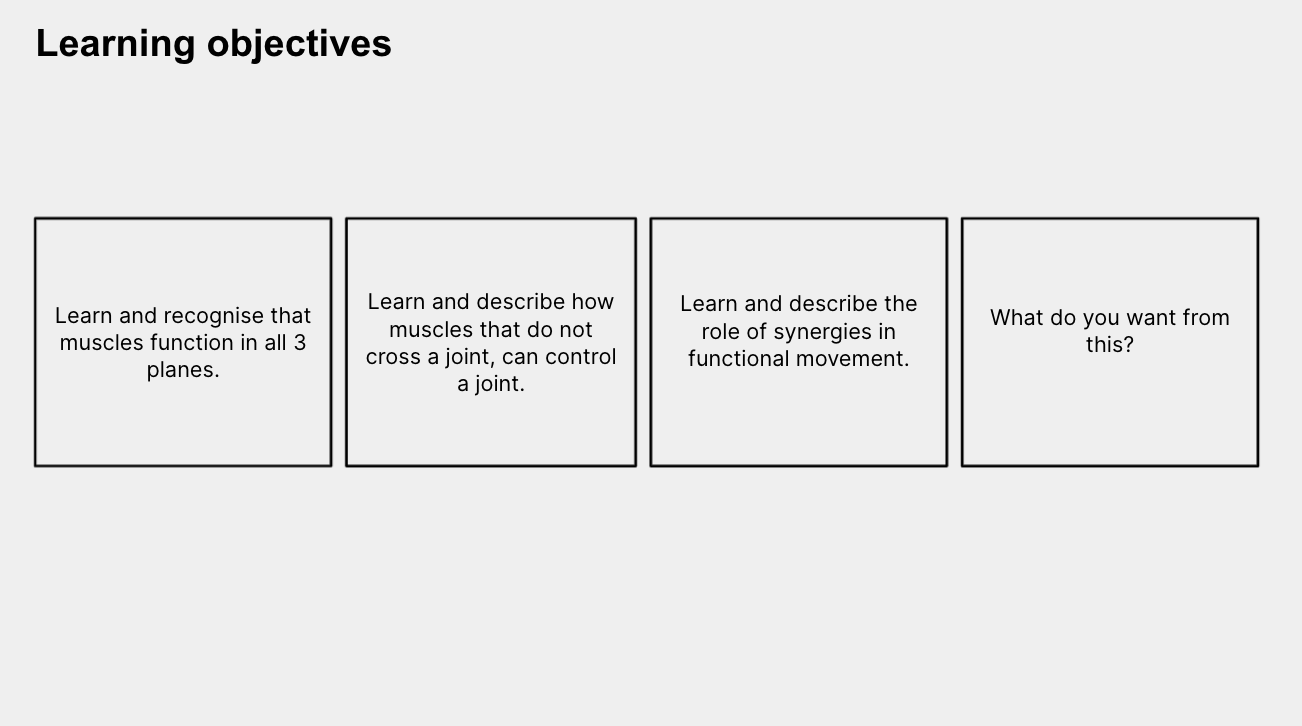 Meet the instructor
Shaun Brooking
Shaun has worked in the movement space for over 12 years, with an honours degree in Sport and Exercise Science and a post graduate degree in Human Performance.
He works with clients looking for:
Optimal human performance - athletes or individuals
Relief from chronic pain, tension or injuries
Stress management and burn out recovery
Injury rehabilitation Somatic Coaching.
As a competitive athlete himself, Shaun used to live and breathe a lifestyle of 'harder, faster, stronger'. After 12 years, he recognised the limitations in this philosophy, and felt the cost on his physical and mental health. Shaun recognises that we are more than a physical bod. Being out of touch with our own physical sensations, can be detrimental to our health and well-being. How do you know when your body is telling you to stop?
Most body-based and movement training approaches miss the critical connection between mind and body - ignoring these physical signs. This lead to further study and training in embodied movement, neuroscience and Somatic Coaching. He discovered how the human body interrelates to all other facets of life: work, performance, mental health, stress and relationships. He approaches the body - the person - as an ecosystem, functioning within a larger ecosystem, which allows for a more integrated, sustainable approach to health and wellness.
He now brings these principles together, through theory and personal practice, to provide clients with an enhanced sum total of the lived experience – in work and life.
Our once-yearly Black Friday sale is now on!
£50 off yoga diploma

£50 off Dynamic reformer bundle

£100 off mat + reformer + prenatal